Your Profile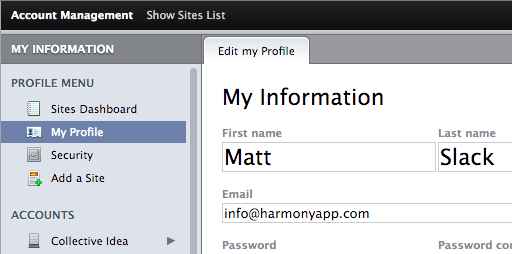 Using Your Profile
When you sign up for Harmony, we create a profile that is yours, and unique in the whole Harmony system. No matter how many accounts or sites you administrate, you log in using your own username and password. You'll use that profile to create accounts and sites, or be invited to administrate other accounts or sites.
This Harmony profile is free. You don't need to sign up for an account to keep an active profile. Other sites or accounts can add your profile to their list of administrators, and you'll be able to manage those site(s) and account(s) at no cost to you.
Similarly, your profile can own several accounts, should you want to separate different business accounts. It's up to you.
Get to Any Site from Anywhere
Any site that you can manage shows up when you click the 'Show Sites List' link1 at the top of the Harmony administration area. You can filter that list, and either click on a site to go to its admin area, or use the left and right arrows and hit enter to do the same. 1This list will comprise of any site you can manage, from any account. No need to jump between accounts to edit your sites.
Harmony also uses single sign on, so once you've signed in to one site, you can go to any other site you manage, you'll be signed in automatically.